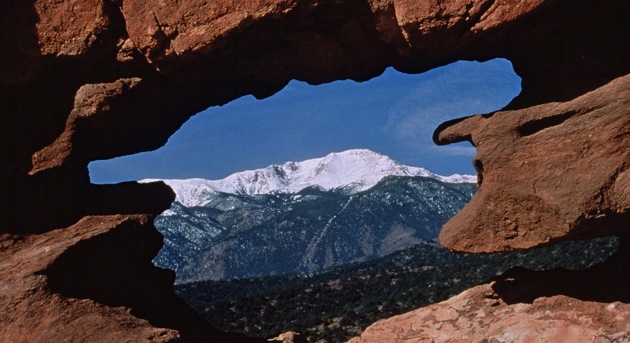 Garden of the Gods: View of Pikes Peak from one of Colorado Spring's most visited tourist attractions.
Colorado Springs is the place to be in June, and the town welcomes you to the 2012 National Invitational Tournament of Champions.
NITOC Preferred Provider Hotels - Great Variety at Great Rates!
When you book a room at any of the hotels listed below and ask for the "Stoa NITOC Group rate", you will get the best deals we could negotiate. There are lots of options - chosen to accommodate a wide variety of budgets and needs. Please note that the group rates are only in effect through May 12th, and some hotels may fill quickly, so you are encouraged to make your reservations as soon as possible!
Click on any hotel name in the following alphabetized list, and it will take you to an information page for that hotel, including available room types & prices, amenities, and booking instructions. To return to this page, just click on the "back arrow" at the top of your browser page.
Remember, ask for the "Stoa NITOC Group rate", and enjoy your stay!
Host Housing
There is a limited amount of host housing available to families traveling long distances. We would also like people who live in the Colorado Springs area to open up their homes (or refer people who would) for the opportunity to house visiting families. Please contact Kristen Paris to initiate placement for host housing.
Tourist Attractions
There are over 60 area attractions in the Colorado Springs area to enjoy. Located at over 6,000 feet, the Springs is in the valley at the foot of beautiful Pikes Peak. One of the most popular visitors are is Focus on the Family, the home of NITOC. Within minutes, you may enjoy these other attractions:
Garden of the Gods
Pro Rodeo Hall of Fame
Seven Falls
Downtown Manitou Springs
Royal Gorge Bridge and Park
US Olympic Training Center
United States Air Force Academy
Historic Broadmoor Hotel
Cave of the Winds
Cheyenne Mountain Zoo
Pikes Peak and the Cog Railway
Colorado Springs is also home to several Christian ministries, a few of which include:
Glen Eyrie Castle and the Navigators
Compassion International
Cook Communications
Summit Ministries
Young Life