Judging Requirements for All Competitors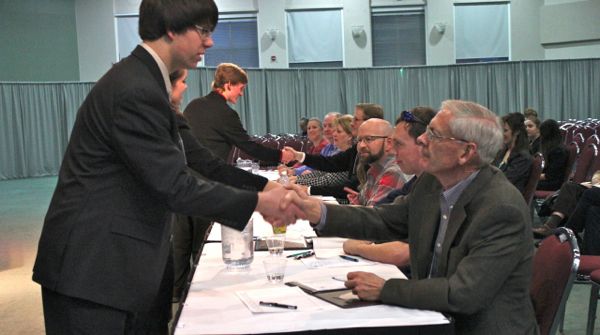 Pictured: Vice President of Public Policy and Focus on the Family, shakes finalists' hands at a tournament in 2011.
Every competitor is required to recruit their parents, adult friends, and family members to judge at NITOC. When you complete registration, you will be asked to fill in the minimum requirement of judges you pledge to register. All judges must register through the Judge Registration tab. Please direct those you solicit to this page, or register them yourself with their permission.
There are three kinds of judges, and each have their unique contribution to the tournament.
Community Judges: These are judges you have invited to judge who do not fill the roles of Alumni or Parent judges.
Alumni Judges: These are returning students who are at least one year out of high school and are 18 years or older.
Parent Judges: These are parents of competitors and are a valued asset to running NITOC smoothly. All parents must meet their judging requirements.
Competitor Judge Requirements
When you register, each competitor is required to fulfill judging requirements.
Individual Events
All speech competitors are required to provide a judge for a minimum of two rounds for every individual event for which they are registered. For example, if you register for three IE events, then you are required to provide judges for a minimum of six rounds.
Debate
Every debate competitor is required to provide a judge for three rounds.
Clubs are encouraged to work together to fulfill the judging requirements for their members.
Community Judges
Community Judges are a crucial and integral part of our tournaments. They bring unique perspective while sharing valuable information with you. This is an important connection that builds relationships beyond the competition, blessing everyone involved.
In order to complete our judging needs, it is necessary that all families actively recruit community judges. If you are local to the Colorado Springs area, ask your neighbors, city officials, and church members to contribute to your education by joining us as a judge. If you are traveling to NITOC, ask friends and relatives in the greater Colorado area to travel to NITOC and judge. Remind everyone that we provide all the training necessary and refreshments.
Send your judges to https://nitoc2012.homeschooldebate.net/judges to register. You may register them yourselves only with their explicit permission.
Parent Judges
Thank you for all the rounds you have judged and all the excellent feedback you have provided so far this year. The students competing at NITOC are depending on your keen eye, sharp minds, soft hearts and lively pens yet again. We cannot have a tournament without your significant investment in judging.
Overall, NITOC needs parent judges in every round of the tournament. This helps maintain the integrity of the results and ensure that the tournament runs on schedule. The student's judging requirement is based on the child's number of speech and debate events mentioned above. If the judging requirement cannot be met by a competitor's parents, the competitor must arrange for substitute judges to fulfill his or her judging requirement.
Students will not be able to complete their registration without a parent also registering as a judge. Parent judge registration allows you to select the time slots that are compatible with your schedule and provides us with reliable information to keep the tournament on schedule. We look forward to seeing all parents at their scheduled judging times.
All parents who have not been through a Stoa Judge Orientation are required to participate in one of these enjoyable sessions before judging speech or debate.
Note for Chaperones: All underage competitors must be chaperoned. Chaperones will be treated as parents when meeting the judging requirement.
Alumni Judges
We love our Alumni Judges! They generously give back to the activity that served them so well in the past. Alumni should remember to write encouraging comments, the type you appreciated when you were a competitor, and avoid taking ballots from former "rivals", anyone that you have coached and members of your prior club.
We look forward to seeing our alumni again!
Contact Us for Questions
Once registered, judges will be sent more detailed information as the tournament approaches. Please contact any of our judge coordinators for more information: