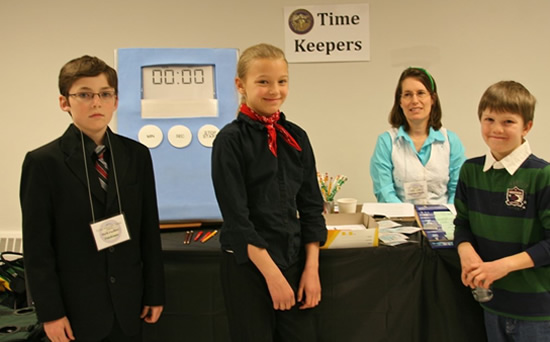 Timekeeper Volunteers
Commitment: Competitors are asked to provide a volunteer to act as a timekeeper during the tournament. Please have them bring a timepiece that they can keep with them for the entire tournament. Family members and friends attending the tournament can participate as timers. As parents, our commitment to the tournament is to judge. The timing of rounds by parents does not fulfill any commitment to the tournament. When younger siblings time they learn about speech and debate while developing their service ethic as well. Of course, we will welcome grown-up timers after all the ballots have been assigned to judges! Please register any timekeeper volunteers that are coming with you under the Timer Registration tab at the top of this page.
Timers are encouraged to attend one of three designated timers training sessions on Monday. A tour of the campus will follow the training. Certification will be given to those who attend, and these certified timers will be given preference when rounds are assigned during the tournament:
10:00-11:00pm
1:00-2:00pm
3:00-4:00pm
During the tournament, Timekeepers should check in at least 30 minutes prior to a round; if they have not yet been oriented at NITOC, they should arrive an hour before the round begins.
While NITOC hopes to send a Timekeeper to every room, it is unlikely this will be possible. In order to keep the tournament on time, all debaters at NITOC—both TP and LD—must be prepared to self time. Each debate team must have a working time piece in every round.
We could explain the simple process in writing, but think that it is easier to communicate it with a short training video here.
For questions/concerns about Time Keeping, contact Rebecca Kinder at (303-829-7419) or tweetybird302@gmail.com.